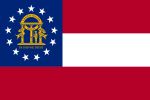 Georgia, now is your chance to make real historic change to save our republic!
We can do this but we need you to:
STEP 1: Join the team in Georgia and introduce yourself.
STEP 2: Contact your State Leader by emailing Georgia@wolf-pac.com and participate in the new volunteer orientation.
STEP 3: Take action! Call your state legislators and report it here.
Your State Leaders
Wolf PAC GA
Heidi Behnke & Dylan Shapiro
Georgia@wolf-pac.com
Like this to encourage your friends to volunteer.